After saying they would never release the Beatles' American albums again, they have released them, again, on CD, The Beatles' new box set - (NME.COM). Whose "they"? More money, more money, more money. Can't take it with you. My man human says any Beatles tune is a good tune. And more Beatles news. The Abby Road Beatles Tribute wall in front of the famous studio will now be cleaned once a week. Maybe a good thing. When my humans visited Abby Road several years ago they wrote their message on the wall and photographed it as a souvenir. The wall had been whitewashed several weeks earlier and there was little room to write. If the wall is to be whitewashed weekly, that will allow more fans to write longer notes. See (BBC NEWS)-Clean up for Beatles tribute wall. A Beatles musical is being planned which may feature Two unheard John Lennon songs - (NME.COM).

My male human is in a much better mood these days. I guess removing newspapers and news programs from his diet has really helped. Listening to Oldtime Radio programs on the net and all the tapes he has really calms him down. I like the sound effects, especially the cats and dogs. I am glad that the studios and radio networks saved those artistic (some of them) and historic pieces of acetate. I really just like to lie there with my bud Tule and dream away.



Tule and I lounging like lizards

Today I will be doing a lot of dreaming and listening to more old shows and other noises. The missus is now in Denver for a business meeting. Mister will be sawing, hammering and probably making those grunting noises again. Look at what he did yesterday.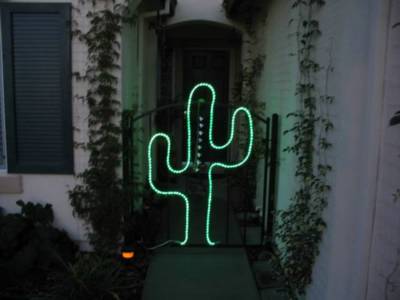 "Christmas" Cactus

(Can you tell that he got a digital camera and finally learned how to post pictures? It took him way too long to post Weird Beard's pic. All he had to do was ask me, but noooo. Guess I'm just a pretty face after all.) Back to his project of yesterday. It is that holiday season again and being the weird (ha, ha) human he is he crafted the above out of the light ropes that humans are so fond of. He told me it comes from when he and his family would visit his parents while they lived in Arizona. Many of the saguaro - (Wikipedia) cacti arms were capped with Santa hats. So, he says, why not keep part of the tradition of a cactus at Christmas going. If he finds a Santa hat I suppose....I don't even want to think about it.
8952