Last Friday was really neat. We saw the largest migration of painted lady butterflies in 30+years and we saw a young otter at Watson Hollow.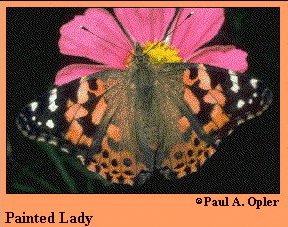 On our morning walk we saw the otter slowly lumbering along the opposite bank of the creek. It was about two feet long. It certainly was not concerned with our presence. I was just about to conclude that the otter found in one of our artificial lakes, trapped and relocated a while back, was the one from Watson Hollow. It might well have been from there, but it also may have left behind a youngster. I hope they were not related, though. I hate to see a little one separated from its mom or dad. But I'm glad to see an otter there. Hope it stays.

That afternoon my humans and I were lounging on the terrace when we noticed a couple of butterflies around one thirty. Then there were more every couple of seconds. They started coming in bunches of threes, fours or sixs. This lasted for over two and a half hours. They were coming from Death Valley and the Mojave Desert. Then there were more on Saturday. My mom and dad went up to Sacramento for the afternoon.



Ouch! The yellow is the stored fat of the butterflies.



As you can see, quite a few of the butterflies didn't make it. My humans saw several birds picking up the downed b-flies at the side of the road. They felt bad about hitting all those pretty insects. See Red Admiral and Painted Lady Research Site, if you would like to help track the migrations of several different winged pretties.


While in Sac Mom and Dad had a great meal at Tapa The World. Another Spanish restaurant that my people seem to migrate to. Hope they are not turning into butterflies. Would hate to see them on the windscreen.